New releases to look forward to this week
Published on the 30th May 2013 by Putnam Adult
Hardcover & eBook
368 pages
"Memorial Day, 1938: New York socialite Lily Dane has just returned with her family to the idyllic oceanfront community of Seaview, Rhode Island, expecting another placid summer season among the familiar traditions and friendships that sustained her after heartbreak.
That is, until Greenwalds decide to take up residence in Seaview.


Nick and Budgie Greenwald are an unwelcome specter from Lily's past: her former best friend and her former fiancé, now recently married—an event that set off a wildfire of gossip among the elite of Seaview, who have summered together for generations. Budgie's arrival to restore her family's old house puts her once more in the center of the community's social scene, and she insinuates herself back into Lily's friendship with an overpowering talent for seduction...and an alluring acquaintance from their college days, Yankees pitcher Graham Pendleton. But the ties that bind Lily to Nick are too strong and intricate to ignore, and the two are drawn back into long-buried dreams, despite their uneasy secrets and many emotional obligations.


Under the scorching summer sun, the unexpected truth of Budgie and Nick's marriage bubbles to the surface, and as a cataclysmic hurricane barrels unseen up the Atlantic and into New England, Lily and Nick must confront an emotional cyclone of their own, which will change their worlds forever."
Published on 30th May 2013 by Penguin Press
Hardcover
304 pages
"Sarah Zuckerman and Jennifer Jones are best friends in an upscale part of Washington, D.C., in the politically charged 1980s. Sarah is the shy, wary product of an unhappy home: her father abandoned the family to return to his native England; her agoraphobic mother is obsessed with fears of nuclear war. Jenny is an all-American girl who has seemingly perfect parents. With Cold War rhetoric reaching a fever pitch in 1982, the ten-year-old girls write letters to Soviet premier Yuri Andropov asking for peace. But only Jenny's letter receives a response, and Sarah is left behind when her friend accepts the Kremlin's invitation to visit the USSR and becomes an international media sensation. The girls' icy relationship still hasn't thawed when Jenny and her parents die tragically in a plane crash in 1985.
Ten years later, Sarah is about to graduate from college when she receives a mysterious letter from Moscow suggesting that Jenny's death might have been a hoax. She sets off to the former Soviet Union in search of the truth, but the more she delves into her personal Cold War history, the harder it is to separate facts from propaganda.
You Are One of Them
is a taut, moving debut about the ways in which we define ourselves against others and the secrets we keep from those who are closest to us. In her insightful forensic of a mourned friendship, Holt illuminates the long lasting sting of abandonment and the measures we take to bring back those we have lost."
Published on 28th of May 2013 by Plume
Paperback & eBook
256 pages
"Ruth Zook returns home to Holmes County, Ohio, carrying a heavy suitcase and a heavier heart. Coerced into becoming a drug mule, Ruth retaliates by destroying her illicit burden and pays for it with her life. When Fannie Helmuth confesses that she was similarly coerced, Sheriff Bruce Robertson realizes that the drug dealers' operation reaches all the way to Florida's Pinecraft Amish community. He immediately moves the investigation South, where more innocent lives are in jeopardy.
Like the bestselling books in Craig Johnson's Walt Longmire series, The Names of Our Tears is a riveting mystery loaded with the page-turning thrills and suspense that readers love."
Published on 28th pf May by Harper Perennial
paperback & eBook
288 pages
"It's 1983 in Berkeley, California. Twenty-year-old Allie Dodgson is a straitlaced college student working part-time at a dress shop to make ends meet. But when the shop turns out to be a front for a dangerous drug-dealing business, Allie finds herself on the lam, speeding toward Los Angeles in her best friend's Prelude with a Wonder Bread bag full of cocaine riding shotgun and a hit man named Vice Versa on her tail. You can't find a more thrilling summer read"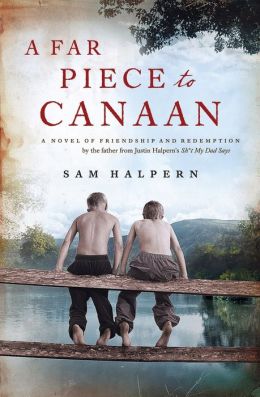 Published on 28th of May 2013 by Harper Perennial
Paperback & eBook
400 pages
"Inspired by Sam Halpern's childhood in rural Kentucky, A Far Piece to Canaan tells the story of Samuel Zelinsky, a celebrated but troubled retired professor who reluctantly returns after his wife's death to visit a farm in the Kentucky hills where he lived as a child. The son of sharecroppers, Samuel has long since left that life behind-yet now must reconnect with long-buried memories in order to achieve peace.
Delving into the events of 1945, Sam recalls Fred Mulligan, the hired hand's bright and spirited ten-year-old son. Together with two neighbor boys, Samuel and Fred visit the Blue Hole, a legendary pool on the Kentucky River where the hill people believe an evil force lurks. The boys find the body of a dog, surrounded by twisted human footprints, and later discover a cave that offers other evidence that something terrible has transpired. Fearing that they'll be punished for their trespasses, the boys initiate a series of cover-ups and lies that eventually lead to a community disaster.
When the Zelinskys move from the farm, the two boys promise each other that if either of them ever needs help, the other will come to his aid, but after he moves to Indiana and is ridiculed because of his "hillbilly" background, Sam rejects his past.
Now, decades later, Sam is devastated to learn from a fellow classmate about Fred's tragic life story in the years that followed-and manages to make contact with his troubled granddaughter, Lisa June. Though at first she rejects his attempts to reach out to her, through persistence and patience Samuel finally manages to establish a connection, becoming a kind of surrogate grandfather to Lisa June-and finally achieving peace through his late return to Canaan land."